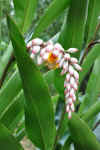 Did you know that The common name of Alpinia zerumbet, Shell Ginger, derives from the shape and markings of its pinkish flower buds that some say resemble seashells?
Shell Ginger - Alpinia zerumbet
Alpinia zerumbet, commonly known as shell ginger, is a perennial species of ginger native to East Asia. They can grow up to 8 to 10 ft (2.4 to 3.0 m) tall and bear colorful funnel-shaped flowers. They are grown as ornamentals and their leaves are used in cuisine and traditional medicine. They are also sometimes known as the pink porcelain lily, variegated ginger or butterfly ginger.
Native to eastern Asia, this plant is a rhizomatous, evergreen tropical perennial that grows in upright clumps 8 to 10 ft (2.4 to 3.0 m) tall in tropical climates. In more typical conditions, it reaches 4 to 8 ft (1.2 to 2.4 m) feet tall in the green house, and 3 to 4 ft (0.91 to 1.22 m) feet tall, as a house plant.