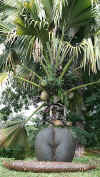 Did you know that the gigantic fruit of Coco de Mer (Lodoicea maldivica) reminds of a woman's pelvic area?
Coco de Mer - Lodoicea maldivica
The Sea Coconut also known as Coco de Mer (Lodoicea maldivica), the sole member of the genus Lodoicea, is a palm endemic to the islands of Praslin and Curieuse in the Seychelles. It formerly also was found on the small islets of St Pierre, Chauve-Souris and Ile Ronde (Round Island), all located near Praslin, but has become extinct there. The name of the genus, Lodoicea, is derived from Lodoicus, the Latinised form of Louis, in honour of King Louis XV of France.
The awesome coco-de-mer (Lodoicea maldivica) is a giant of the plant world; this palm has some of the longest leaves and the largest and heaviest seeds of any plant in the world. The tall slender trunk may tower up to 34 metres in height, bearing at its crown a mass of palm fronds. In mature individuals The leaves are fan-shaped, 7Ė10 m long and the leaf blades may be 4.5 metres wide and are fringed at the edges; withered leaves hang from the palm below the vibrant, healthy green crown.