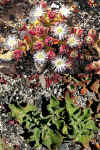 Did you know that the Mesembryanthemum crystallinum has the initially perplexing oddity that it accumulates salt and it can survive if is exposed to too much salty enviroment?
Iceplant - Mesembryanthemum crystallinum
Mesembryanthemum (meaning "midday flowering" is a genus of flowering plants native to southern Africa. Mesembryanthemum is a member of the family Aizoaceae. Many members of the family Aizoaceae have the common name "ice plant" and they are characterized by long-lasting flower heads that remain open during sunlight.
The generic name Mesembryanthemum comes from the Greek words mesembria = midday and anthemon = flower. Both the generic name is a reference to the flowers which only open when there is strong sunshine, i.e. usually at noon. The family name Aizoazeae, from the Greek word aizoon = living eternally, describes the robustness of --our-- plant.