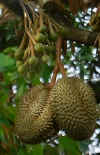 Did you know that the persistence of the odour of Durio zibethinus has led to the fruit's banishment from certain hotels and public transportation in Southeast Asia?
Durian - Durio zibethinus
Durio zibethinus, is the most commonly available of those tree species in the genus Durio that are known as durian, and have edible fruit also known as durian. Durio zibethinus is found in the Malavaceae family and the Helicteroideae subfamily. Durio zibethinus is native to Borneo, Indonesia, Malaysia, and possibly Sumatra. The tree has been cultivated throughout the tropics, specifically in: India, Sri Lanka, New Guinea, the Philippians and Central America.
Durio zibethinus grows in cultivation at altitudes of sea level to 700 feet but has been reported at elevations up to 2,600 feet. The durian being a tropical plant requires abundant rainfall (1,500mm-2,500mm, spread over nine to 11 months) and a temperature of 27-30 degrees Celsius with temperatures of 22 and 46 degrees Celsius being the extremes. In cultivation the plant typically flourishes in latitudes up to 18 degrees North and South of the equator.