August 2005
Did you know that the ancient Egyptians started making paper from the papyrus plant, Cyperus Papyrus, over five thousand years ago?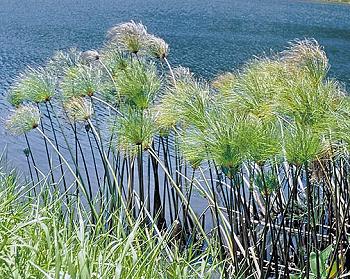 Papyrus (Cyperus papyrus)
Papyrus -Cyperus papyrus
Cyperus papyrus, (Cyperaceae), is a tall, robust, leafless aquatic can grow 4-5 m high. It features a grass-like clump of triangular green stems that rise up from thick, woody rhizomes. Each stem is topped by a dense cluster of thin, bright green, thread-like rays around 10-30 cm in length. This cluster resembles a feather duster when the plant is young. Greenish-brown flower clusters appear at the ends of the rays. The flowers give way to brown, nut-like fruits.

The younger parts of the rhizome are covered by red-brown, papery, triangular scales, which also cover the base of the culms and represent reduced leaves. It is therefore untrue to call this plant "leafless".

Papyrus is estimated to range from subtropical to tropical desert to wet forests, tolerating annual temperatures of 20-30įC and pH of 6.0 - 8.5. Papyrus flowers in late summer, and prefers full sun to partly-shady conditions. Like most tropical plants, it is sensitive to frost.

Papyrus is native to the lakes and rivers of northern Africa, in particular, the countries of Egypt and Sudan. The papyrus sedges form vast stands in swamps, shallow lakes, and along stream banks throughout the wetter parts of Africa, but has become rare in the Nile Delta. In deeper waters it is the chief constituent of the floating, tangled masses of vegetation known as sudd. It also occurs also in Madagascar, and some Mediterranean regions such as Sicily and Palestine.

The 'feather-duster' flowering heads make ideal nesting sites for many social species of birds. As in most sedges, pollination is effected by wind, not insects, and the mature fruits after release are distributed by water.

The stems of the Cyperus papyrus plant are triangular in shape which helps to give it the strength to withstand high winds without breaking. The ancient Egyptians started making paper from the papyrus plant over five thousand years ago.
Papyrus is a Latin word from which the word paper is derived. Papyrus is not true paper in the sense that sheets are not formed from macerated fibers. The use of papyrus as a writing material goes back several thousands of years. It was once the most widely used writing surface in the world. Sheets of papyrus were formed by slicing the pith of the plant Cyperus papyrus and laying very thin strips in a row with the edges slightly overlapping. Another row was laid at a right angle on top of the first layer. The layers were moistened with water and pounded into a sheet with a hammer. The sheet was then pressed and dried. A flour (Egyptian), water and vinegar solution was used as a sizing.

Sheets were usually sold in long rolls or bales. The rolls were formed by attaching the sheets end to end with what is thought to have been a starch adhesive. Individual sheets could then be cut off the roll as needed. Individual sheets were between 7 and 20 inches long. Each roll had about 20 sheets of papyrus. The better grades of papyrus were more brownish in color. The best quality sheets were made from slices that came from the heart of the plant. When a sheet of papyrus was written upon, the side with the horizontal layers was normally used.

Papyrus was an expensive material because its production and sale were controlled by royal monopoly. This made its trade a lucrative market. At one time or another the Egyptians, Greeks, Romans and Byzantines held state monopolies in papyrus trade. Papyrus saw its greatest use between the 4th century A.D. and the 4th century B.C. As the technology of papermaking spread, however, paper eventually replaced papyrus as the predominant writing material.
The ancient Egyptians appeared to have used papyrus in so many ways. We know they made paper from papyrus but they also used it to make sandals, wove it into mats, baskets and fencing, made rope and also used parts of the plant for food as well as a medicine.
Aside from papyrus, several other members of the genus Cyperus may actually have been involved in the multiple uses Egyptians found for the plant. Its flowering heads were linked to make garlands for the gods in gratitude. The pith of young shoots was eaten both cooked and raw. Its woody root made bowls and other utensils and was burned for fuel. From the stems were made reed boats bas-reliefs of the Fourth Dynasty showing men cutting papyrus to build a boat; similar boats are still made in the southern Sudan, sails, mats, cloth, cordage, and sandals. Theophrastus states that King Antigonus made the rigging of his fleet of papyrus, an old practice illustrated by the ship's cable, wherewith the doors were fastened when Odysseus slew the suitors in his hall.
Today, papyrus is mainly cultivated as an aquatic ornamental. It is now a popular landscape plant, gracing fishponds and pools in frostfree areas around the world! A dwarf relative of this plant, designated as C. nanus or C. profiler, typically grows to only 1 m tall.
Source:
http://aic.stanford.edu/sg/bpg/annual/v13/bp13-10.html
http://eoluk.co.uk/papyrus/papyrus_1.htm
http://www.absoluteastronomy.com/
encyclopedia/c/cy/cyperus_papyrus.htm