October 2020
Did you know that Japanese Ainu aborigines have considered honeysuckle haskap (Lonicera caerulea) berries as an "elixir of life"?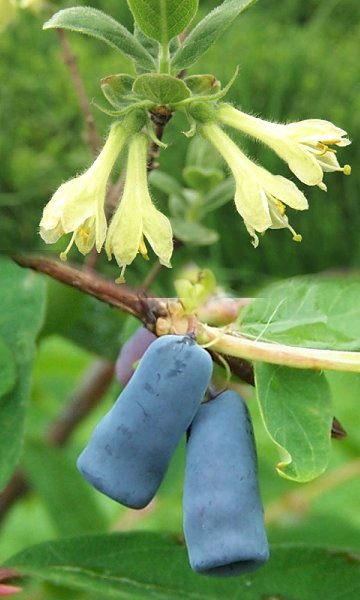 Blue honeysuckle - Haskap (Lonicera caerulea).Flowers and fruits.
Blue honeysuckle - Haskap - Lonicera caerulea
Lonicera caerulea, also known by its common names blue honeysuckle, sweetberry honeysuckle, fly honeysuckle (blue fly honeysuckle), blue-berried honeysuckle, or the honeyberry, is a non-climbing honeysuckle native throughout the cool temperate Northern Hemisphere in countries such as Canada, Japan, Russia, and Poland. The plant or its fruit has also come to be called haskap, derived from its name in the language of the native Ainu people of Hokkaido, Japan.

Haskap is a fast-growing, multi-branched, deciduous shrub growing to 1.5–2 m tall. The leaves are opposite, elliptic to ovate, 3–8 cm long and 1–3 cm broad, greyish green, with a slightly waxy texture and they have slightly wavy leaf margins.
The flowers are pale yellowish-white, 12–16 mm long, with five equal lobes; they are produced in pairs along the shoots. They bloom in late spring to early summer (April-June). The species is hermaphrodite (has both male and female organs) and is pollinated by Insects. The plant is not self-fertile.
The fruit is an edible, deep blue with reddish-purple insides berry, somewhat rectangular or oval-teardrop to almost-globose in shape weighing 1.3 to 2.2 grams and about 1 cm in diameter. Fruits ripen in early summer.
Each berry has approximately 20 seeds that resemble tomato seeds based on their size and shape, but the seeds are not noticeable during chewing.
The species is circumpolar, primarily found in or near wetlands of boreal forests in heavy peat soils. However, it also can be found in high-calcium soils, in mountains, and along the coasts of northeastern Asia and northwestern North America. The plant is winter-hardy and can tolerate temperatures below −47 °C.
Variability in growing characteristics results in part from the large geographic distribution of this shrub. Some current confusion exists regarding differentiation between varieties/subspecies. Some experts have identified as many as 9 different varieties, but other experts have instead divided the species into 4 different subspecies. Cultivars with improved characteristics are available in commerce.

Haskap variety edulis has been used frequently in breeding efforts, but other varieties have been bred with it to increase productivity and flavor. In several haskap breeding programs, the variety emphyllocalyx has been the dominant one used.
Currently, the most commonly planted are honeysuckle berries originating in Russia, Japan, Canada and Poland. The cultivars most popular and easiest to grow are tundra, borealis, indigo gem, blue lightning and kamchatka. A great advantage of the fruit is its high resistance to low temperatures. It can survive up to −40°C and the flowers to −7°C. Moreover, they are not affected by variations in soil pH, presence of pests or diseases.
Honeysuckle is harvested in late spring or early summer two weeks before strawberries for Russian type varieties, with Japanese types ripening at a similar time to strawberries. The berries are ready to harvest when the inner layer is dark purple or blue. The outer layer is dark blue and looks ripened, but the inner layer may be green with a sour flavor. Two compatible varieties are needed for cross pollination and fruit set. In North America, most Russian varieties are adapted to hardiness zones 1 to 4. The plants may take three or four years to produce an abundant harvest.[8] Average production on a good bush is about 3 kilograms (6.6 lb) and can maintain productivity for 30 years.
Berries may be eaten directly off the shrub or harvested for use various processed products, such as pastries, jams, juice, ice cream, yogurt, sauces, candies and a wine similar in color and flavor to red grape or cherry wine.
The taste can be characterized as bitter to sour-sweet, varying among cultivars. The health benefits of sweetberry honeysuckle have been well known for centuries in their native countries and are an excellent source of vitamin C.
Japanese Ainu aborigines have considered honeysuckle berries as an "elixir of life", and on Hokkaido Island, a juice made out of the fruit is sold as a "gold remedy for eternal youth and longevity".

Source:
https://en.wikipedia.org/wiki/Lonicera_caerulea
http://www.missouribotanicalgarden.org/PlantFinder/
PlantFinderDetails.aspx?taxonid=278931&isprofile=0&pt=7
https://www.ncbi.nlm.nih.gov/pmc/articles/PMC7037556/