January 2023
Did you know that the famous shea butter is extracted from the seed of Vitellaria paradoxa plant?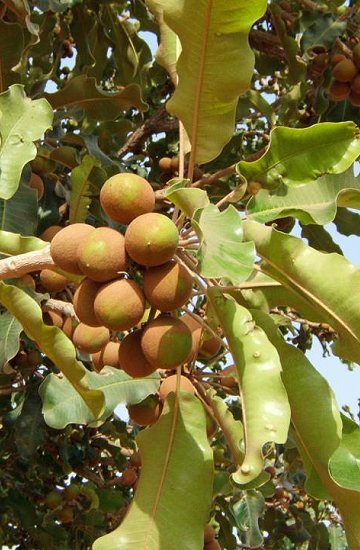 Shea butter tree (Vitellaria paradoxaa).
Shea butter tree - Vitellaria paradoxa
Vitellaria paradoxa (formerly Butyrospermum parkii), commonly known as shea tree, shi tree, Karité or vitellaria, is a tree of the family Sapotaceae. It is the only species in the genus Vitellaria, and is indigenous to Africa. The shea fruit consists of a thin, tart, nutritious pulp that surrounds a relatively large, oil-rich seed from which shea butter is extracted.

The shea tree is a traditional African food plant. It has been claimed to have potential to improve nutrition, boost food supply in the "annual hungry season", foster rural development, and support sustainable land care.

Vitellaria paradoxa, or commonly known as Shea Butter Tree is a deciduous tree with a spreading crown and grows about 25 m in height and a trunk diameter of 2 m. It is indigenous to Africa and is the sole species in the Vitellaria genus. Its bark is corky. The leaves are oblong and clustered at the ends of branches. The flowers are white and clustered at the ends of shoots. The fruits are flat and round containing up to four shiny brown seeds. Fruiting commence 10-15 years after planting but full production occurs at 20-30 years. It then produces nuts for up to 200 years.
The shea tree grows naturally in the wild in the dry savannah belt of West and South from Senegal in the west to Sudan and South Sudan in the east, and onto the foothills of the Ethiopian highlands. It occurs in 19 countries across the African continent, namely Benin, Burkina Faso, Cameroon, Central African Republic, Chad, Ethiopia, Ghana, Guinea Bissau, Ivory Coast, Mali, Niger, Nigeria, Senegal, Sierra Leone, South Sudan, Sudan, Togo, Uganda, Democratic Republic of the Congo, and Guinea. The habitat area in total spans as wide as 5,000 square kilometres.
The fruits resemble large plums 4 to 8 centimetres long weighing between 10 and 57 grams each. These fruits take 4 to 6 months to ripen; the average yield is 15 to 20 kilograms (33-44 lbs.) of fresh fruit per tree, with optimum yields up to 45 kilograms (99 lbs.). Each kilogram of fruit gives approximately 400 grams (14 oz.) of dry seeds.
The kernel of the seed (often incorrectly called 'nut') contains a vegetable fat known as shea butter.
Shea butter has many uses and may or may not be refined. In the West it is most commonly used as an emollient in cosmetics and is less commonly used in food. Throughout Africa it is used extensively for food, is a major source of dietary fat, and for medicinal purposes. In Ghana and Nigeria, shea butter is a major ingredient for making the African black soap.
Shea butter from fresh seeds is white, odourless and of high quality, while that from stale seeds is dark, and tastes bitter[299 ]. High quality shea butter is consumed throughout West Africa as a cooking fat. Refined fat has been marketed as margarine and baking fat. It is used for pastries and confectionery because it makes the dough pliable. It is a useful cocoa butter substitute because it has a similar melting point (32 - 45įC) and high amounts of di-stearin (30%) and some stearo-palmitine (6.5%) which make it blend with cocoa butter without altering flow properties.
In rural areas, seeds are traditionally processed by hot water extraction, usually the job of women. The fruit pulp is first removed for food, or by fermentation or boiling. The seeds are then boiled and later sun- or kiln-dried. Sun-drying may take 5-10 days. Seeds are cracked using mortar and pestle, or stones; the kernels are removed by trampling and redried before being crushed, ground and kneaded to form a paste; the paste is put in water, heated or boiled and the boiling mass is churned until a grey, oily fat separates from the emulsion. The fat is skimmed off from the surface and washed to remove impurities. The congealed fat may subsequently undergo further refining before being moulded in to various forms. This traditional method of processing is inefficient and labour intensive.
Mechanization of the various operations, in particular the use of hydraulic or continuous screw expellers or application of solvent extraction, will improve oil extraction efficiency considerably. Pre-treatment of the kernel paste with enzymes (e.g. proteases and cellulases) may also result in higher extraction rates. In spite of their slightly laxative properties, mature fresh fruits are considered an important local food. They are commonly eaten in savannah regions because they ripen during the land preparation and planting season.The pulp has a sweet flavour. The flowers are also considered an important local foods. They are sometimes made into fritters. The reddish latex which exudes from deep cuts in the bark is used as a chewing gum.

Shea butter is a suitable base for topical medicines. Its application relieves rheumatic and joint pains and heals wounds, swellings, dermatitis, bruises and other skin problems. The high proportion of unsaponifiable matter, consisting of 60 - 70% triterpene alcohols, gives shea butter creams good penetrative properties. Allantoin, another unsaponifiable compound, is responsible for the anti-inflammatory and healing effect on the skin. The fat is used traditionally to relieve inflammation of the nostrils.
Clinical tests with patients suffering from rhinitis, and having moderate to severe nasal congestion, showed that shea butter may relieve nasal congestion better than conventional nasal drops. The leaves are used to treat stomach-ache. They are also added to vapour baths to treat headache and as an eye bath. Ground roots and bark are used to treat diarrhoea, jaundice and stomach-ache. Bark infusions have medicinal and antimicrobial properties, e.g. against dysentery. They are applied as an eyewash to counteract spitting-cobra venom. A bark decoction has been used in baths to facilitate childbirth and stimulate lactation among feeding mothers.

Source:
https://en.wikipedia.org/wiki/Vitellaria
https://pfaf.org/user/Plant.aspx?LatinName=Vitellaria+paradoxa