October 2019
Did you know that Koelreuteria paniculata tree is aptly named Golden rain-tree for its showers of showy, yellow flowers that bloom in June and July?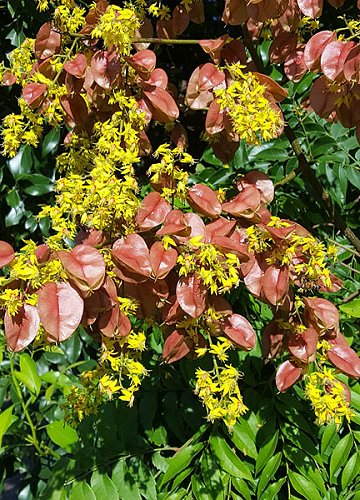 Goldenrain Tree (Koelreuteria paniculata).
Goldenrain Tree - Koelreuteria paniculata
Koelreuteria paniculata is a species of flowering plant in the family Sapindaceae, native to eastern Asia, in China and Korea. It was introduced in Europe 1747, and to America in 1763, and has become a popular landscape tree worldwide. Common names include goldenrain tree, pride of India, China tree, or varnish tree.

It is a small to medium-sized deciduous tree growing to 7 m (23 ft) tall, with a broad, dome-shaped crown. The leaves are pinnate, 15–40 cm (6–16 in) long, rarely to 50 cm (20 in), with 7-15 leaflets 3–8 cm long, with a deeply serrated margin; the larger leaflets at the midpoint of the leaf are sometimes themselves pinnate but the leaves are not consistently fully bipinnate as in the related Koelreuteria bipinnata.

The flowers are yellow, with four petals, growing in large terminal panicles 20–40 cm (8–16 in) long. The fruit is a three-parted inflated bladderlike pod 3–6 cm long and 2–4 cm broad, green ripening orange to pink in autumn, containing several dark brown to black seeds 5–8 mm diameter.

There are two varieties: K. paniculata var. paniculata. Northern China and Korea. Leaves single-pinnate. K. paniculata var. apiculata (Rehder & E.H.Wilson) Rehder (syn. K. apiculata). Western China (Sichuan), intergrading with var. paniculata in central China. Leaves with larger leaflets commonly bipinnate.

It is popularly grown as an ornamental tree in temperate regions all across the world because of the aesthetic appeal of its flowers, leaves and seed pods. Several cultivars have been selected for garden planting, including 'Fastigiata' with a narrow crown, and 'September Gold', flowering in late summer.

Golden rain-tree is aptly named for its showers of showy, yellow flowers that bloom in June and July. Tolerant of pollution and challenging soils, this species is a common street tree in the U.S.A. and Europe. Like many "tropical" trees, its young leaves are pinkish when first emerging.
Genus name ( Koelreuteria) honors Joseph Gottlieb Koelreuter (1733-1806), professor of natural history at Karlsruhe, a pioneer experimental investigator of plant hybridization. Specific epithet ( paniculata) means in a panicle in reference to the floral inflorescence.

In the UK the cultivar 'Coral Sun' has gained the Royal Horticultural Society's Award of Garden Merit.

In some areas, notably the eastern United States and particularly in Florida, it is considered an invasive species.

Edible Uses: Berries - roasted. Leaves and young shoots - cooked. The seeds are edible when roasted, but not commonly consumed.
In China, the trees are known as 'Luan' or 'Luan-hua'. The flowers are used by the Chinese to make a yellow dye and traditional medicines. The leaves are for dyeing black and the seeds are made into beads.in necklaces etc.

In Chinese history, Koelreuteria paniculata was one of the five official trees which could be planted as a memorial by a tomb. In Japan, tradition has it that the tree is often planted over the graves of scholars.
The tree has traditional medicinal uses for treatment of eye problems (ephiphora and conjunctivitis) which may be why it was traditionally grown around scholars (many whose eyes must have been saved by the tree in ancient times).

More recently, Chinese researchers have found that Goldenrain trees planted in abandoned mining areas actually remove heavy metals from contaminated soils while beautifying the landscape.

Source:
https://en.wikipedia.org/wiki/Koelreuteria_paniculata
https://gobotany.nativeplanttrust.org/species/koelreuteria/paniculata/
http://www.missouribotanicalgarden.org/PlantFinder/PlantFinderDetails.aspx?kempercode=a550
https://japanesemythology.wordpress.com/goldenrain-trees-association-with-scholars/