May 2017
Did you know that The flowers of Carissa macrocarpaare are pure white and scented like orange blossom?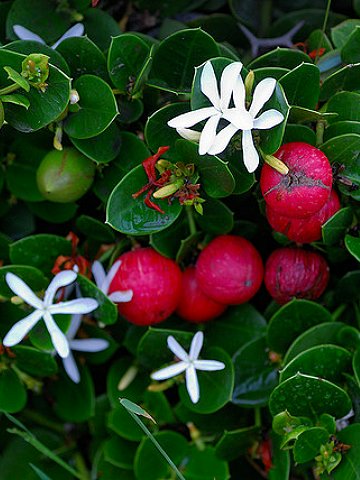 Natal Plum (Carissa macrocarpa). Flowers and fruits.
Natal Plum - Carissa macrocarpalla
Carissa macrocarpa (Natal Plum), is a shrub native to South Africa, where it is commonly called the Large Num-Num. In Zulu, as well as in the Bantu tribes of Uganda, it is called Amathungulu or umThungulu oBomvu. In Afrikaans the fruit is called Noem-Noem.
Carissa macrocarpa is a fast-growing, ornamental shrub that is salt-laden wind resistant and can grow in coastal areas.
It usually forms a dense thorny shrub but it can grow into a small tree up to 4 m high. This species has Y- shaped thorns; the young branches are green and all parts of the plant exude a white, milky, non-toxic latex. Leaves are leathery, a shiny dark green above and paler below, 20-60 x 15-35 mm, egg-shaped, oval or almost round. The tips of the leaves are sharply or bluntly pointed and usually with a mucro, a thorn-like point. The flowers vary in size, up to 35 mm in diameter, are pure white and scented like orange blossom. The flower tube is hairy within. It flowers from spring to midsummer.
The ornamental plump, round, crimson fruit appears in summer and fall (autumn) at the same time as the blooms. In moderate, coastal areas the fruits appear through the year. The large, oval red fruit is edible and is rich in Vitamin C, magnesium and phosphorus. The fruit can be eaten out of hand or made into pies, jams, jellies, and sauces.
Some claim that other than the fruit, the plant is poisonous. However this claim is a myth, possibly based on similarities to other plants with milky sap.
A traditional food plant in Africa, this little-known fruit has potential to improve nutrition, boost food security, foster rural development and support sustainable landcare.
Carissa macrocarpa grows mainly in coastal areas in South Africa. It can be found on sand dunes and on the edges of coastal forests in Eastern Cape Province northwards from Natal to Mozambique. Today the plant is also growing commonly in southern Florida and is cultivated in southern California and used widely as an ornamental in Central America and the Caribbean.
The name Carissa is derived from the Sanskrit corissa, the name of one of the Indian species. The specific name macrocarpa is derived from Greek words for 'large' and 'fruit'. The common name amatungulu is the Zulu name amaTungula meaning 'fruit of the umThungula'.
This ornamental shrub attracts birds and butterflies to the garden and makes a good garden hedge.Plant one metre apart to form a dense, impenetrable hedge in full sun to semi-shade in good garden soil, enriched with compost. It can be pruned if necessary. It is best grown from seed, but can also be grown from cuttings. Carissa macrocarpa will produce fruits within the first 2 years after planting.
The plant moulds itself very well to bending and for this reason can be grown as a very attractive Bonsai plant.
A low growing form of C. macrocarpa, "Green carpet" is a popular groundcover plant which seldom grows more than knee height.

Source:
https://en.wikipedia.org/wiki/Carissa_macrocarpa
https://www.plantzafrica.com/plantcd/carismac.htm