April 2019
Did you know that Cardiocrinum giganteum, the giant Himalayan lily, is the largest species of any of the lily plants of the world?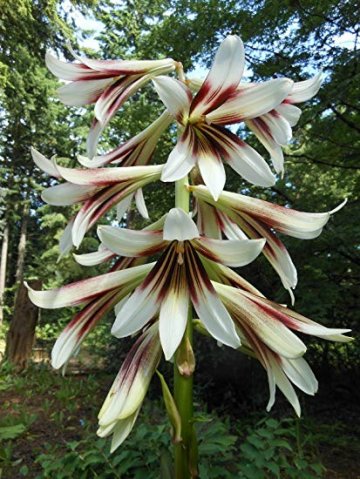 Giant Himalayan Lily (Cardiocrinum giganteum).
Giant Himalayan Lily - Cardiocrinum giganteum
Cardiocrinum giganteum, the giant Himalayan lily, is the largest species of any of the lily plants, growing up to 3.5 meters high. It is found in the Himalayas, China and Myanmar (Burma).

Cardiocrinum giganteum (Liliaceae), forms almost 20 cm long fragrant trumpet-shaped flowers and large heart shaped leaves. It flowers for up to two weeks in July depending on the numbers of flowers. The middle flowers of the raceme open first. The buds have an upright position in the raceme while the flowers in the beginning are oriented perpendicular to the axis but later on become hanging. After flowering the fruit stalk increases in length and bend upwards to a position similar to that of the buds.
The species is hermaphrodite (has both male and female organs) and is pollinated by Insects.
The white trumpet shaped flowers are marked with purple within the mouth have a powerful fragrance, attracting plenty of pollinating insects, before they are replaced by interesting oblong seedpods in late summer. The Giant Himalayan Lily may take 3 or more years to flower but is well worth the wait.
This fascinating plant is monocarpic, meaning that it dies after flowering - but don't be put off, it leaves behind offsets that will flower in 3 to 5 years time.
The bulb consists of just a few highly succulent bulb scales. It may obtain a diameter of about 20 cm. The genus has up to five species depending on, if some of the species are considered belonging to the genus Lilium or not.
The plant was first described scientifically in 1824 by Nathaniel Wallich. The species was introduced into commercial production (as Lilium giganteum) in Britain in the 1850s. A bulb grown from seed collected by Major Madden flowered in Edinburgh in July 1852, while those collected by Thomas Lobb were first exhibited in flower in May 1853.
The leaves are used medicinally as an external cooling application to alleviate the pains of wounds and bruises]. A paste of the root is applied as a poultice to treat dislocated bones. In music a kind of flute is made from the hollow stems.
Genus name comes from the Greek words kardia meaning a heart and krinon meaning lily in reference to the heart-shaped leaves. Specific epithet means unusually large or tall.

Source:
https://en.wikipedia.org/wiki/Cardiocrinum_giganteum
https://pfaf.org/user/Plant.aspx?LatinName=Cardiocrinum+giganteum
http://www.viscum.dk/eng-sider/cardiocrinum.htm