June 2008
Did you know that the argan nuts have to pass through a goatís gut before being collected out of their dung, in purpose to be used in argan oil production?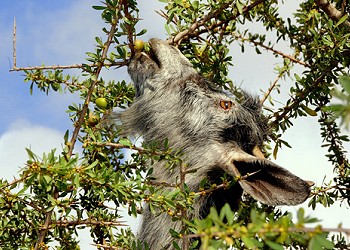 Argan tree (Argania spinosa) and goat
Argan - Argania spinosa
The Argan (Argania spinosa, syn. A. sideroxylon Roem. & Schult.) is a species of tree endemic to the calcareous semi-desert Sous valley of southwestern Morocco and to the algerian region of Tindouf. It is the sole species in the genus Argania and is the only member of the Sapotaceae family occurring north of the Sahara.
Argania spinosa is known locally as "the tree of life". It is thought that the trees date back to the Tertiary period between 65 and 1.6 million years ago, and at one time grew all over North Africa and southern Europe. An evergreen thorny shrub or tree, it lives to 150-200 years old, and it can grow up to 10m from a single gnarled and twisted trunk or multiple stems. The leaves are small, 2-4 cm long, oval with a rounded apex. The flowers are small, with five pale yellow-green petals; flowering is in April. The fruit is 2-4 cm long and 1.5-3 cm broad, with a thick, bitter peel surrounding a sweet-smelling but unpleasantly flavoured layer of pulpy pericarp. This surrounds the very hard nut, which contains one (occasionally two or three) small, oil-rich seeds. The fruit takes over a year to mature, ripening in June to July of the following year.
The argan tree can live to at least 250 years old, and although it starts producing fruit after about five years, it takes a further 25 before it is in full production, which lasts between 30 and 60 years in total. For full production argans require 50mm a year, though they can survive on as little as 15mm of water a year. During extreme conditions the tree becomes dormant, regenerating once the rains return. To survive such dry conditions they sinks their roots deep into the water table some 30m down. The tree also has shallow roots called tivotantes, which absorb rainfall. Unsurprisingly, little else will grow nearby as the trees are renowned for taking up all water available.
In some parts of Morocco, Argan takes the place of the Olive as a source of forage, oil, timber and fuel in Berber society. Especially near Essaouira, the argan tree is frequently climbed by goats. The argan tree branches carry vicious spines, which prove an effective deterrent to all wishing to pick the fruit, apart from the fearless goats; local people wait for the fruits to fall to the ground before harvesting.
Argan fruit falls in July, when black and dry. Until that time, goats are kept out of the argan woodlands by wardens. Rights to collect the fruit are controlled by law and village traditions. The leftover nut is gathered after consumption by goats, but the oil produced from these nuts has an unpleasant taste, and is not used for human consumption. Thereís an urban legend that the argan nuts have to pass through a goatís gut before being collected out of their dung. Some fruit are harvested that way, but it does taint the oil with an unmistakable smell of goat.
The oil which prodused without "goats help" is pure and is the famous Argan oil. Argan oil is slightly darker than olive oil, with a reddish tinge. It can be used for cooking and is claimed to have various medicinal properties, such as lowering cholesterol levels, stimulating circulation and strengthening the bodyís natural defences. Internationally, there is some interest in its possible cosmetic uses. The production of argan oil, which is still mostly done by traditional methods, is a lengthy process. Each nut has to be cracked open to remove the kernels, and it is said that producing one litre of oil takes 20 hours' work.

The residue from the kernels after oil extraction is a thick chocolate-coloured paste called "amlou" which is sweetened and served as a dip for bread at breakfast time in Berber households. It flavour is similar to that of peanut butter. The wood and nut-shells of the argan tree are burned for cooking; the wood is also used decoratively in some of the inlaid boxes which are made in Essaouira.

Households that make their own argan oil tend to use if for general cooking. Because it is expensive to buy, others may use it more sparingly - flavouring salads, for example. A few drops stirred into couscous just before serving give it a rich, nutty aroma.

Argan production is still basically a cottage industry, managed largely by women. But many people believe that if the oil became better known it could provide more employment in the region as well as enhancing the environment.

The surface area and the density of the groves of argan trees are, however, receding in an alarming manner. In less than a century, more than a third of the argan forest has disappeared and the average density of the forest has gone from 100 to 30 trees per hectare. The arganeraie forests now cover some 8,280 km≤ and are designated as a UNESCO Biosphere reserve. However, research work has shown that the argan tree is not a fossil which is slowly dying out, but is, on the contrary the tree of the future for certain arid regions. As now the sight of goats in trees is controled and may become increasingly rare, it is hoped the argan groves will once more clothe the land, providing sustenance for the Berbers and safeguarding the future of an unlikely and versatile plant and the green curtain at the doorway to the Sahara.

Source:
http://en.wikipedia.org/wiki/Argan
http://www.al-bab.com/maroc/env/argan.htm
http://www.mondeberbere.com/science/argan/argan_intro_en.htm
http://www.wildwoodgroves.com/GI121_argan_oil_10se%20indd.pdf