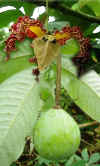 Did you know that the odour and taste of the Monodora myristica seed is similar to nutmeg and it is used as a popular spice in the West African cuisine?
Calabash nutmeg - Monodora myristica
Monodora myristica, the calabash nutmeg, is a tropical tree of the family Annonaceae or custard apple family of flowering plants. It is native to Angola, Benin, Cameroon, the Central African Republic, the Democratic Republic of the Congo, Equatorial Guinea, Gabon, Ghana, Guinea-Bissau, Ivory Coast, Kenya, Liberia, Nigeria, the Republic of the Congo, Sierra Leone, Sudan, Tanzania, Togo and Uganda. In former times, its seeds were widely sold as an inexpensive nutmeg substitute. This is now less common outside its region of production.[3] Other names of calabash nutmeg include Jamaican nutmeg, African nutmeg, ehuru, ariwo, awerewa, ehiri, airama, African orchid nutmeg, muscadier de Calabash and lubushi.

Calabash nutmeg forms a large branching tree with a grey-barked trunk and can reach 35 m high and 2 m in diameter in nature. It has a clear trunk and branches horizontally. It has large leaves (35 cm long and 18 cm wide) at the end of its branches. The leaves are purple at first but turn a smooth deep green on the upper side with paler green underneath. They are prominently veined and the petiole (leaf stem) is purplish.
More....click here!