July 2014
Did you know that Silver Tree (Leucadendron argenteum) has been called "living chrome" because of its shiny, silvery foliage that looks metallic and feels like silk?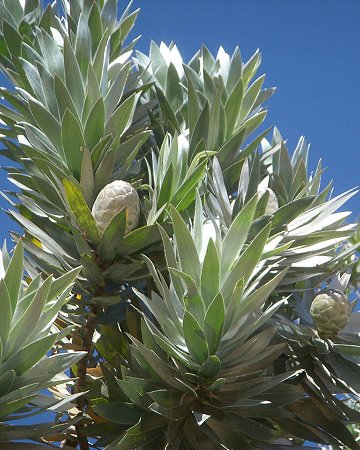 Silver Tree (Leucadendron argenteum). Leaves and flowers
Silver Tree - Leucadendron argenteum
Leucadendron argenteum (Silver tree, Silver leaf tree, Afrikaans: Witteboom, or Silwerboom) is an endangered species in the family Proteaceae, endemic only to Table Mountain, a small area of the Cape Peninsula, in and around the city of Cape Town, South Africa. The Silver Tree is a protected tree in South Africa.

The name Leucadendron is from the Greek, leukos, meaning white, and dendron, tree. This genus is named after and based on the silver tree, from its common name witteboom, meaning white tree, as it was known in the 1690s when the genus was first named. The species name argenteum is Latin and means silver, silvery or ornamented with silver, referring to its striking silver foliage. It's been called "living chrome" because of its shiny, silvery foliage that looks metallic and feels like silk!

The Silvertree is a striking evergreen tree, growing 5–7 m tall (sometimes up to 16 m). It is erect and well-proportioned with a thick, straight trunk and grey bark. The soft, silky leaves are shiny silver, lanceolate, 8–15 cm long and 2 cm broad, with their distinct silvery sheen produced by dense velvety hairs which help keep the leaves from drying out. In warmer weather, the hairs lie flat, reflecting the sun's light. The wind-pollinated (or beetle-pollinated) flowers are produced in dense globose inflorescences 4–5 cm diameter, they are apricot-coloredand give off a pleasant vanilla scent which attracts the small beetles that do the job of pollination. Like all Leucadendrons, this tree is dioecious, with separate male and female plants. The fruit is a heavy woody cone, containing numerous seeds; each seed is a small nut with a silky-haired helicopter-like parachute, enabling it to disperse by wind.
This enormous silver Protea is naturally confined to a tiny area in and around the city of Cape Town. Its main population grows on the slopes of Table Mountain, notably the Lion's Head area, above Rhodes Memorial and the mountain slopes above Kirstenbosch National Botanical Garden. In addition there are two tiny outlying populations nearby, in Stellenbosch and Paarl (It has not yet been established for certain whether these are natural outliers, or were planted here in early Cape history). Historically, the Silvertree was more widespread on Table Mountain, covering much of its slopes in shimmering silver forests. However, early demand for timber led to much of these forests being felled and now the Silvertree is a rare and endangered species. Table Mountain might be the only place where these trees grow naturally in the wild (there is controversy about whether the populations in Stellenbosch and Paarl were introduced from Table Mountain). In the face of urban development, inappropriate fire management, and invasive alien trees such as pines and gums, silvertrees have been driven from about 74% of their natural range.

Within the remaining habitat, an estimated 40 to 50 percent of the entire world's native population of these trees was destroyed between 26 January and 27 January in the 2006 Table Mountain fire. However, as recruitment of seedlings only occurs naturally after fire this is a necessary stage in the life-cycle of this Fynbos species. Recruitment after the fire has been good, and the population has recovered totally.

A major deterrent to propagation of the silver leaf tree is its short life span. Most individuals don't live more than 20 years. But that is not a problem for conservation as fires rejuvenate populations on average every 15–20 years.
To survive in the fire-prone fynbos, Leucadendron argenteum has evolved the reseeding strategy. Despite its thick bark, adult trees are usually killed by fire and only the seeds survive. The seeds are kept safe in the large woody cones on the plant and are released en masse after a fire. A small percentage of the seeds are released during the lifetime of the tree, which keeps the population healthy by producing a steady supply of young plants in the absence of fire. Juveniles take 5–7 years to flower and set seed, whereafter the populations are ready to burn again.
Seeds are dispersed by wind. Although the seeds are large, relatively heavy nuts, they are equipped with a plumed parachute-like appendage, the dried remains of the flower, which carries it a considerable distance from its parent plant. The seeds are also eaten by rodents, which collect and store the seeds in underground caches where many remain uneaten, and viable for many decades. Seeds have been known to survive in the soil for 80 years. The alien grey squirrels also eat the seeds, taking them from cones as they are opening.
Leucadendron argenteum is widely cultivated as an ornamental garden specimen. Its beautiful silver foliage is used in floristry and lasts well in the vase. The leaves have also long been collected, pressed and dried for decoration or as a souvenir. The dried female cones are decorative and the small silver balls of the dried male flower heads are used in dried floral arts and crafts, e.g. to make the body of mice or hedgehogs. In the 1600s and 1700s L. argenteum was extensively used as firewood.

The Silver Tree is challenging to grow, but in the right conditions it's a spectacular plant that is rarely seen in cultivation. The Silver Tree comes from a mild, maritime climate and does best with moderate temperatures.It can only take a few degrees of frost. It's best to protect it from all frost. You may grow it in large pot indoors, provided that it receives good air circulation. It needs fast draining soil that's slightly acid and low in nutrients. Like most Protea relatives, it dislikes phosphorous fertilizer. Give it full sun, and regular watering during the growing season. The plant is prone to Phytophora root rot, especially if overwatered in warm weather. Be gentle whenever repotting, as it dislikes root disturbances.

Source:
http://en.wikipedia.org/wiki/Leucadendron_argenteum
http://www.plantzafrica.com/plantklm/leucadadendronargent.htm
http://www.strangewonderfulthings.com/208.htm