June 2011

Did you know that the Siberian Ethnic group Nanaitsy say if you eat a handful of dried limonnik berries, it gives you energy to hunt all day without eating?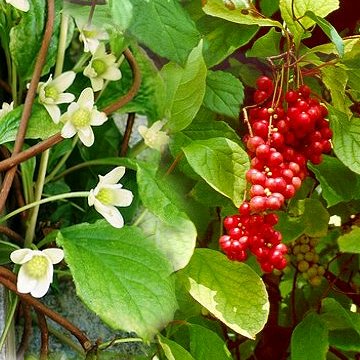 Schisandra chinensis (flowers and berries)
Schisandra - Schisandra chinensis
Schisandra chinensis is a deciduous woody vine native to forests of Northern China, Korea and the Russian Far East. The plant likes some shade with moist, well-drained soil. The species itself is dioecious, thus flowers on a female plant will only produce fruit when fertilized with pollen from a male plant. However, there is a hybrid selection titled "Eastern Prince" which has perfect flowers and is self-fertile. The vine is typically of height 15 to 25 feet and width 5 to 10 feet. It flowers from April to May, with flowers of diameter about 1 inch. The vine which bears numerous clusters of tiny, bright red berries.
The fully ripe, sun-dried fruit is used medicinally. It has a mixture of sour, sweet, salty, hot, and bitter tastes. This unusual combination of flavors is reflected in its Chinese name wu-wei-zi, meaning "five-taste fruit". Its berries are used in traditional Chinese medicine, where it is considered one of the 50 fundamental herbs. They are most often used in dried form, and boiled to make a tea.

This plant is sometimes referred to as Chinese Magnolia Vine or Five Flavored Fruit. The five distinct flavors found in the berry correspond to the five phases or Elements of Traditional Chinese Medicine; Sour (Wood), Bitter (Fire), Sweet (Earth), Acrid (Metal) and Salty (Water). Hence ita€™s name Wu Wei Zi in Chinese. It is considered a Harmonizing Tonic or a€?Kinga€¯ remedy in Chinese Medicine because of its well balanced energetic nature. Other Herbs in this category include but are not limited to Licorice, Dong Quai, Panax Ginseng, Jujube Dates, and Bupleurum. It is included in every classic text on Traditional Chinese Medicine and has been used to support a healthy functioning endocrine system, digestive system, and to support normal liver function as well as a convalescent tonic herb when the kidney system is involved.
Chinese herbalists use schisandra for coughs, night sweats, insomnia, thirst, and physical exhaustion. Scientific research carried out in Russia from the 1940s to the present has confirmed the medical efficacy of schisandra chinensis for use in different conditions, and has also revealed its chemical composition and mechanisms of action.
In China, a wine is made from the berries.
The great interest in Limonnik (Schisandra chinensis) in Russia arises from results of ethnopharmacological investigations of Russian scientists in the Far East regions where the berries and seeds were used by Nanai (Goldes or Samagir) hunters to improve night vision, as a tonic and to reduce hunger, thirst and exhaustion since "it gives forces to follow a sable all the day without food".

Source:
http://en.wikipedia.org/wiki/Schisandra_chinensis
http://www.naturalelixir.com/schisandra.html
http://69.5.9.93/herb_of_the_week.php?id=11