October 2001
Did you know that Fritillaria Imperialis (Crown imperial) is native to western Himalayas?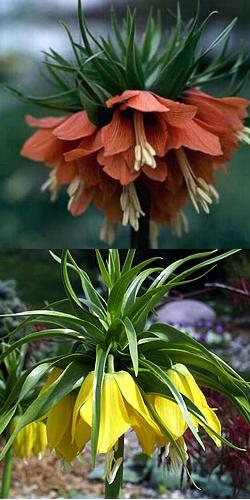 Fritillaria imperialis. Orange red (Aurora)-lemon yellow (Lutea)
Fritillaria imperialis (Crown imperial)
The genus, Fritillaria consists of almost 100 species and they share their botanical name fritillus with a butterfly. All of these are found in the northern hemisphere, with the main habitats being the areas around the Mediterranean. Only a limited number are being cultivated, but interest in this genus is very much on the rise.
Fritillaria imperialis (Linn.), is by far the most well-known species. It is also one of the earliest plants to be cultivated. Clusius introduced this majestic plant to the Netherlands as early as the 16th century. Illustrations of it date back to 1610! The Crown Imperial Lily of Persia, is found in such locations as Turkey, Iran, Afghanistan, Pakistan, Kashmir and western Himalayas. It's said to be there cultivated as a food plant, its bulb possessing poisonous properties when raw, but being wholesome when cooked.
There are two kinds of this handsome plant, associated with the earliest type of English gardens. They bear a circle of pendulous flowers - one blooms pure lemon yellow (Lutea), the other deep orange red (Aurora)- and have a crown of foliage above them. The same name is given to this Lily in all European languages.
Many fritillaries have a strong scent to them which some people find unpleasant. Fritillaria imperialis (whose bulb, by the way, smells exactly like elephants, or, according to other noses than mine, like foxes); it can be smelled in the spring even when buried two feet deep. Even honey from the flowers is said to be emetic. Imperialine was isolated by Fragner in 1888, on extracting the bulbs with chloroform. This alkaloid and its salts are intensely bitter and are heart poisons. No medicinal use is made of the plant.
The stately Fritillaria imperialis, or crown imperial, with its crown-like tufts of foliage and nodding, nectar-laden orange to yellow flowers, is known in Farsi (the language of Iraq) as the "Tears of Mary." Christian tradition recalls that of all the flowers, only the proud crown imperial refused to bow its head during the Crucifixion. As a consequence, it has "bowed" and "wept" ever since.
F. imperialis can reach up to 1.5m (5ft) tall. Plant these large, unpleasantly scented bulbs as early in the season as possible, and immediately after acquiring them. This is necessary because the roots will start developing inside the packaging, and this can result in damage during planting. The soil must drain quickly and thoroughly; heavy soil will definitely need the addition of extra sand. Specimens that receive what they need often continue to flower year after year in the same location, especially in climatic zones 4 - 6. Sometimes, however, a stem emerges but fails to bloom. In that case, plant new bulbs in another location, preferably among ground cover plants. The flowers have a distinctive musk-like odor and contain large drops of nectar.
Source:
http://www.bulb.com/springguide98/fritillaria.asp
http://www.botanical.com/botanical/mgmh/l/lilcro22.html
http://www.bbg.org/gar2/topics/plants/2001sp_fritillarias.html