June 2010
Did you know that Goji (Lycium barbarum) is one of the oldest medicinal plants known and it was a staple in the diets of Chinese peasants for at least 2.000 years?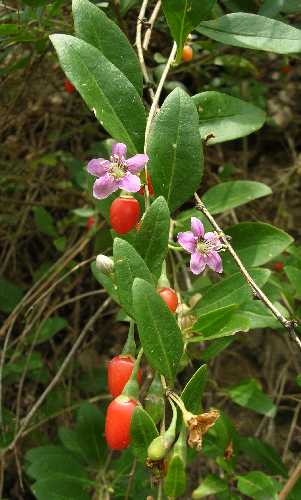 Goji - Wolfberry - Lycium barbarum (flowers and fruits)
Goji - Wolfberry - Lycium barbarum
Wolfberry, commercially called goji berry, is the common name for the fruit of two very closely related species: Lycium barbarum and L. chinense, two species of boxthorn in the family Solanaceae (which also includes the potato, tomato, eggplant, deadly nightshade, chili pepper, and tobacco). It is native to southeastern Europe and Asia.

It is also known as Chinese wolfberry, mede berry, barbary matrimony vine, bocksdorn, Duke of Argyll's tea tree, Murali (in India), red medlar, or matrimony vine. Unrelated to the plant's geographic origin, the names Tibetan goji and Himalayan goji are in common use in the health food market for products from this plant. Lycium barbarum, is grown all over the world and is sought after for its medicinal and health properties.

Wolfberry species are deciduous woody perennial plants, growing 1–4 m high. L. chinense is grown in the south of China and tends to be somewhat shorter, while L. barbarum is grown in the north, primarily in the Ningxia Hui Autonomous Region, and tends to be somewhat taller. Lycium barbarum plant grows to a height of 2.5 to 4 m, and flowers in the months of June to August. It can grow in sandy and clay soils that are nutritionally poor, and can grow in semi shade or no shade at all.
Wolfberry leaves form on the shoot either in an alternating arrangement or in bundles of up to three, each having a shape that is either lanceolate (shaped like a spearhead longer than it is wide) or ovate (egg-like). Leaf dimensions are 7-cm wide by 3.5-cm broad with blunted or round tips.

One to three flowers (picture) occur on stems 1–2 cm in width. The calyx (eventually ruptured by the growing berry) consists of bell-shaped or tubular sepals forming short, triangular lobes. The corolla are lavender or light purple, 9–14 mm wide with five or six lobes shorter than the tube. The stamens are structured with anthers that open heightwise, squatter than the filaments. In the northern hemisphere, flowering occurs from June through September and berry maturation from August to October, depending on the latitude, altitude, and climate.

These species produce a bright orange-red, ellipsoid berry 1–2-cm deep and very tender. The number of seeds in each berry varies widely based on cultivar and fruit size, containing anywhere between 10–60 tiny yellow seeds that are compressed with a curved embryo. The berries ripen from July to October in the northern hemisphere.
The origin of the common name "wolfberry" is unknown, perhaps resulting from confusion over the genus name, which resembles "lycos", the Greek word for wolf. In the English-speaking world, "goji berry" has been used since the early 21st century as a synonym for "wolfberry". The word "goji" is pronunciation of gouqi in Taiwanese Hokkien, the Mandarin name of the plant, developed by those marketing wolfberry products in the West.

Lycium, the genus name, is derived from the ancient southern Anatolian region of Lycia. L. chinense was first described by the Scottish botanist Philip Miller in the eighth edition of his The Gardener's Dictionary, published in 1768.

Wolfberry has a history of several centuries of use in China, where it is highly regarded for its medicinal, healing, and health enhancement properties. Among other things, wolfberry has been credited with anti-ageing properties and enhancing longevity. As if to bear this out, people living in some parts of China, where the plant is extensively grown and used, do enjoy a very high life expectancy and good general health.
Wolfberries are almost never found in their fresh form outside of their production regions, and are usually sold in open boxes and small packages in dried form. The amount of desiccation varies in wolfberries: some are soft and somewhat tacky in the manner of raisins, while others may be very hard.
Wolfberries taste like raisins with a slight suggestion of tomatos. They can be eaten raw or could be cooked. The Chinese make soups out of this berry and also brew it into a wine. The young shoots and leaves are also consumed as a vegetable. As a food, dried wolfberries are traditionally cooked before consumption. Dried wolfberries are often added to rice congee and almond jelly, as well as used in Chinese tonic soups, in combination with chicken or pork, vegetables, and other herbs such as wild yam, Astragalus membranaceus, Codonopsis pilosula, and licorice root. The berries are also boiled as an herbal tea, often along with chrysanthemum flowers and/or red jujubes, or with tea, particularly pu-erh tea, and packaged teas are also available. Various wines containing wolfberries are also produced, including some that are a blend of grape wine and wolfberries.

Wolfberries are considered as one of the richest natural sources of nutrients. They contain beta-carotone, Vitamin C, Vitamin B1 and B2, in addition to a number of other vitamins, minerals, anitoxidants and amino acids. Wolfberry contains most of the carbohydrates,protein, fat and dietary fibers needed by the body. Hundred grams of the processed berry contains 370 calories. Marketing literature for wolfberry products including several "goji juices" suggest that wolfberry polysaccharides have extensive biological effects and health benefits, although none of these claims have been supported by peer-reviewed research. Wolfberry leaves may be used to make tea, together with Lycium root bark for traditional Chinese medicine.
Lycium barbarum could also be used as a hedge and as a stabilizer for sandy banks since it has a good root system and grows on sandy soil.

Source:
http://en.wikipedia.org/wiki/Lycium_barbarum
http://www.articlesbase.com/nutrition-articles/lycium-barbarum-plant-49028.html