Creating Your Feng Shui Garden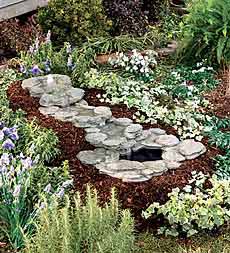 Any style of garden can incorporate Feng Shui principles from the country garden style, which is considered informal to the asymmetrical formal gardens. The key is placement and balance of yin and yang energies. This can be done with color, plants, trees, shrubs and water features, garden furniture, lightings, windchimes and other garden accessories.
To make the perfect Feng Shui garden, plant a mix of flowers, shrubs and trees that will delight the senses for all four seasons. Plants should be healthy, lush and well trimmed. The shapes should balance each other to encourage good Feng Shui for your home and its occupants.

To encourage wealth, luck and prosperity grow healthy plants in the Southeast of the garden. The presence of soft foliage can be balanced with the yang of natural stone and rock. Place some stone ornaments and terracotta plant containers for a touch of Earth energy, particularly in the Southwest and Northeast.

By using a variety of materials in a garden, you can bring about the kind of effect you want. Groves and vines are very yang and can mark seating areas and garden borders.

If you have garden walls and fences, don't despair, you can use them to support climbing plants and flowers. This adds color and height to a garden. With planning, these plants can soften sharp edges at corners thereby reducing harmful "cutting chi."

A structured effect can be created in larger areas by growing a mixture of flowering and evergreen shrubs up pergolas.

A rustic wooden bench looks perfect in a country garden. If it is placed in the East it will help to boost the wood element.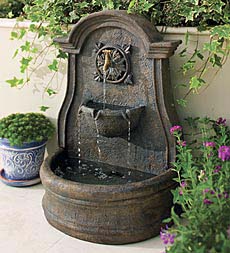 Water features are very important to a Feng Shui garden and are a key element in attracting positive and beneficial chi. Water features are beautiful all year, trickling, splashing, reflecting light and shade, against a backdrop of luxurious plants or mysterious stones.

In Feng Shui the location of the water is essential. Elaborate water features can become the main focus of a garden, however, make sure it doesn't overpower the rest of the garden.

Goldfish in a pond are very auspicious in Feng Shui.

Some areas are only large enough for a small water feature. Make sure the water circulates constantly. Free form ponds look very natural in a garden and should be filled with interesting aquatic plants.

If you have a pond already establishes in you Feng Shui garden, it should be well maintained with healthy plants and fish. Any dead or sickly plants and fish create stagnant chi.

Water that is cascading down over rocks makes a very appealing water feature.

Pleasurable winding walking paths are at the heart of the Feng Shui garden. They are vital conduits of Chi. Many materials can be combined to form garden paths. Meandering paths can be edged with delicate creeping plants that balance the yang energy of stone, concrete or brick.

Paths can wind through the garden and lead to sunny, pleasant seating areas surrounded by shrubs and aromatic herbs. You can design a curving, grass path bordered by flowers and fast growing shrubs.