Verbena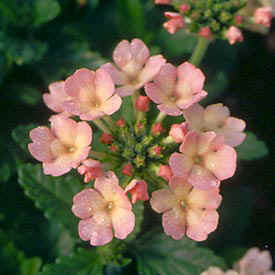 Verbenas have a delicate, airy appearance that brings a touch of refinement to any garden. They grow beautifully when planted in large containers. In beds, verbenas form a blanket of color. True annual verbenas will flower all summer in northern areas where nights are cool. In warmer regions, also look for some of the newer perennial verbenas when shopping for bedding plants in the spring.
Care
When they are properly fertilized and watered, verbenas will bloom continuously from spring until frost in areas with cool nights.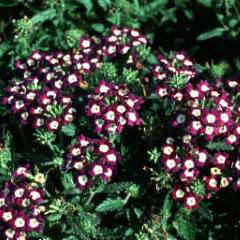 In hotter climates, they may suffer in summer and bounce back in fall. When planting verbenas in beds, cultivate the planting site at least 8 inches deep, and mix in a 2-inch deep layer of flower planting mix, compost, or other type of organic matter. Just before planting, mix in a plant food that contains timed-release nutrients. A high middle number in the fertilizer analysis, such as 11-40-6, indicates extra phosphorous, which will help the plants develop extensive roots.
When flowering slows in midsummer, you can stimulate new growth by cutting back the plants which helps force out new stems and buds. Use pruning shears to cut back the plants by half their size. Then fertilize your verbenas with 17-17-17 containing timed-release fertilizer. Sprinkle this "booster feeding" into the soil between the plants and water well. When growing verbenas in containers, fertilize them more often by sprinkling a teaspoon of fertilizer per plant atop the soil in the pots about once a month.