Mirabilis (Four o'clock)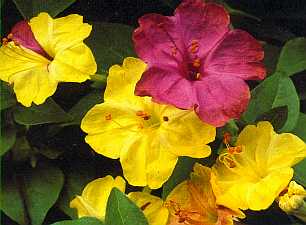 We notice four o'clocks all around us during the summer, in the islands or at friends' summer houses. They are also known as night-flowers. Your mom's or your grandmother's garden definitely included four o'clocks.

Four o'clocks develop very rapidly and reach impressive growth, they may overgrow 1mt in height, they self-seed in the garden and against all who consider them strictly annual plants, in our temperate climate they can easily be grown as bi-annuals if the weather permits. Even in light frosts, the part of the plant that dies is what is out of the soil and not its root system so it will grow back next spring.

They love the sun and can stand it even on the hottest summer days. They need often watering but are not demanding regarding the quality of the soil, thus suitable for poor or clay soils. They also stand salt so they are also suitable for houses near the beach.

The flowers open at sunset and they close at sunrise, they may however remain open during cloudy dark days. The flowers have various colors, ranging from yellow, pink, red, white and bicolor varieties as well. Four o'clocks have a very distinct characteristic. The seeds from plants with flowers of one color can produce plants with flowers of different colors than the mother plant.

The flowers also give out a soft but distinctive fragrance, characteristic of summer nights. You will notice that their fragrance attracts butterflies even when the flowers are closed.

Care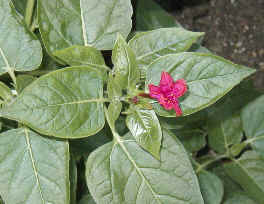 Plant the seeds either in flats indoors at the beginning of March or directly outdoors when the weather warms up. The seeds will germinate in 7-10 days and the seedlings will start growing very rapidly.

Four o'clocks are prolific bloomers, each flower may last for only a few days but your plant will be covered with blooms all summer. When the temperature drops, your plant will shed its leaves and you can prune back as hard as needed to control its size and shape. Alternatively, you could just ignore it until next spring when it will start to grow back.

Every flower produces an oval-shaped seed, its surface is wrinkled and look a lot like pepper grains. Store the seeds in a dry and cool location until you need them next spring. These seeds are very poisonous if ingested, so keep them away from children and pets.