Alyssum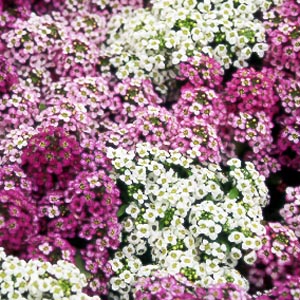 Also known as Sweet Alyssum, this lovely flower is wonderful for filling in around the edges of any flowerbed, between stepping stones or in rock gardens. The plants are covered with clusters of tiny flowers which bloom continuously. The sweet frangrance of these small beauties will perfume the air around the garden and bring bees and butterflies to visit. Alyssum does best in cooler climates, however if planted in partial shade it will thrive in hot summer areas if given plenty of moisture.
Flower Colour - white, purple
Blooming Season - Early Spring to Late Fall


Care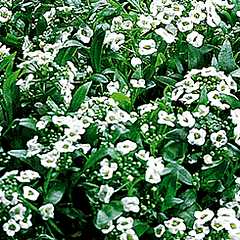 Buy healthy, green plants with no signs of wilting or disease. Plants should be stocky, with plenty of leaves. It's actually a plus if they don't have any flowers on them - they'll divert their early energy into root development rather than flowering. Choose a site in full sun to light shade. Sweet alyssum likes average to poor, well-drained soil and moderate water. Plant seedlings in early spring, about two weeks before your region's last average frost date. Keep soil a little on the dry side.
Trim faded flowers to promote longer blooming. If plants look ragged in mid summer, shear back by half to rejuvenate them. There's no need to fertilize sweet alyssum - if you do, it may actually bloom less.When growing alyssum in containers, tear out and discard plants in fall, after frost fells them.