Portulaca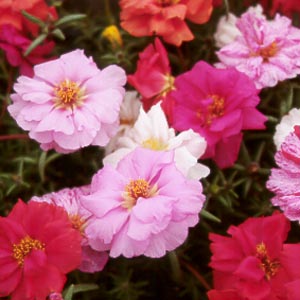 This pretty little annual from Brazil grows about 6 inches tall and produces many flowers about an inch in size that open every morning in the sunshine and form a carpet of color. The shining petals of the roselike single or double blossoms appear in shades of rose, salmon, pink, scarlet, orange, yellow, and white. It's narrow, fleshy leaves are almost hidden by the flowers, which open only in sunshine. In a hot, dry location where most flowers will not grow, portulaca will prosper--on banks, along a driveway, in a rock garden, as a ground cover, or in patio planters. To thrive, they need little more than sunshine and soil, preferably rather poor soil.
Care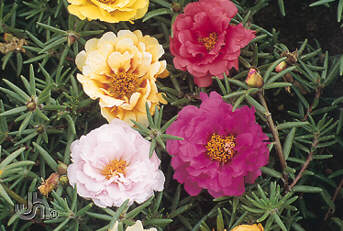 Sow seeds outdoors after the last frost or start them indoors four to six weeks earlier. Outdoors, broadcast the very fine seed mixed with dry sand. They need no thinning or spacing. Young plants transplant easily. Mature plants may spread their own seed, so once portulaca is planted, it often reappears from year to year. Portulaca is poor frost tolerance. It has good resistance to pests and diseases. Water only when dry. Flowers close at night, in shade and on cloudy days. No deadheading in required.
Incorporate a slow-release fertilizer like 18-6-12 into the soil at planting time, OR feed once a month with a balanced fertilizer to keep plants green and flowering.