Plants for your home (By Mary Efanti)
Plumeria
Origin - Description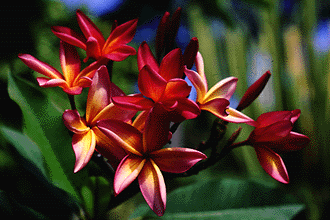 If youíve ever spent holidays in Rhodes or Crete, you have definitely seen it and were definitely impressed. Itís a medium sized tree that is not very common in our country although our climate is suitable.
Itís habitat is the Eastern part of India but it has spread to all tropical countries, as well as to other areas, mainly because of its impressive flowers that also have a wonderful fragrance. They are very common in Hawaii , where plumeria flowers and orchids are the basic ingredients of the infamous Hawaian wreaths.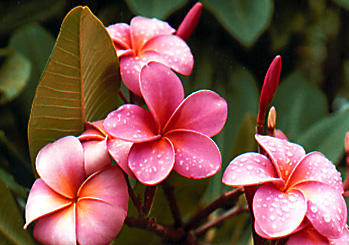 The height of the plant can reach or exceed 3 m under suitable conditions. The branches are soft and fleshy, while the leaves are oval-shaped with a leather-like surface. Their color is vivid green with noticeable veins while their underside is velvet to the touch. 'he plant is poisonous, mainly the white sap coming out of cut branches.
The tree is deciduous, but in tropical or moderate climates it can keep its leaves throughout the year, offering shade and intoxicating fragrance during its flowering period. The flowers appear in groups at the edge of stems and their color is mainly white with yellow, getting darker towards the center of the flower. Flowers consist of five petals, which are velvety and when touched, feel very similar to rose petals.
Care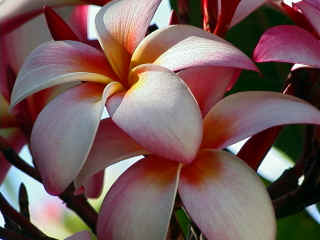 As plumerias are tropical plants, they love hot weather and humidity. They need plenty of water. If the conditions are suitable, they grow very fast.
It needs direct sunlight for many hours per day and its soil should be rich in organic elements. It will not stand freezing and if temperatures drop close to 0, it will die in just a few days.
So, plant it in the garden, selecting a sunny spot, water often and make sure it is protected from freezing. When you expect temperatures below 5ÔC, if possible, cover the plant to protect it from the cold. Also, when selecting a spot to plant, choose a place close to your house or in high traffic areas like a doorway, so you can often appreciate its fragrance.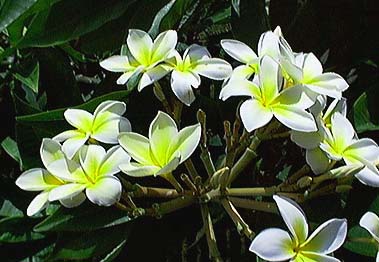 You can prune plumerias to control shape or size, if needed, but always make sure to cut off broken branches or infested parts to avoid spreading of the disease to the rest of the plant.
To propagate it you will need to experiment with cuttings from mature branches. Cut them and plant them in humid garden soil (containing some sand) during spring. The success rate is not high, so you might consider buying a new plant instead.
Unfortunately, plumerias are not the easiest plant to find in nurseries or garden centers but it is well worth the extra trouble locating one. And definitely, if you end up to Rhodes, Crete, or Corfu on your next holidays, make sure to buy and bring a plumeria back home.
Mary Efanti
mefanti@otenet.gr