Make a dried flower topiary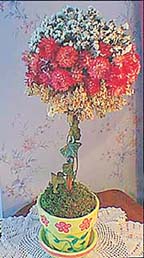 Materials: hand-painted 4-inch pot, block of foam, sheet moss, oak moss, 12-inch cinnamon stick, white statice, stemmed strawflowers, yellow stock and ivy.
1. Cut piece of the foam block to fit the pot; next, cut and round another piece of foam for the head.
2. Cut flowers the same length, inserting stems into head. Make your own design, using maybe three different colors to complement the colors of your pot.
3. Insert small pieces of oak moss between the stems to fill in gaps.
4. Fill in with flowers until the head is difficult to hold, then glue head onto cinnamon stick.
5. Glue stick into base, then cover base with sheet moss. Wind English ivy around the cinnamon stick.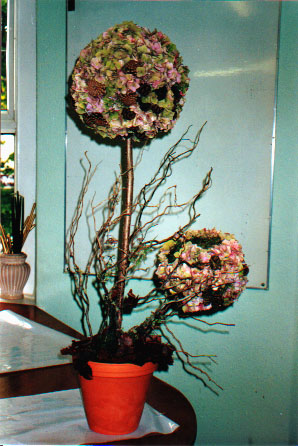 Dried flower topiary