| | | | |
| --- | --- | --- | --- |
| | ADVERTISEMENT... | | |
Vasilopita with Candied Rose Petals

Vasilopita is the famous Greek New Year's Cake. It is made in honor of a beautiful act of charity by St. Basil to the poor and needy of his flock. In order to insure that the needy would have money for life's necessities, and knowing that the needy were also proud people, St. Basil had the ladies of his church bake sweet bread with coins baked into them. In this way he could give them money without demeaning them at all. It is therefore traditional to bake a coin into the Vasilopita (St. Basil's Bread). The one who receives the coin is considered to be especially blessed for the year.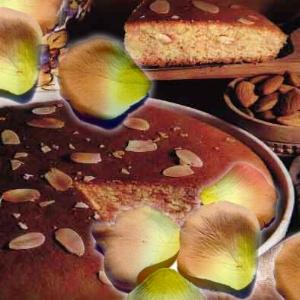 Here is a special recipe for Vasilopita with edible flowers. Enjoy!

Vasilopita Cake Recipe:

1/2 cup milk
2/3 cup sugar
1 tsp. salt
3/4 cup butter, melted
1/4 cup tepid water
2 Tbs. sugar
2 packages active dry yeast
3 eggs, well-beaten
6-7 cups all-purpose flour
1 tablespoon pulverized mahlepi
1 or 2 "lucky" silver coins, washed, & wrapped in foil

Scald the milk and stir in the sugar, salt, and butter. Let the mixture sit to cool.

In a large bowl, combine the tepid water and the 2 tablespoons of sugar. Sprinkle in the yeast. Let it stand for 10-15 minutes. Stir the milk into the yeast mixture, and add the eggs. Slowly add and stir in 3 cups of flour. Beat the mixture vigorously with a wooden spoon until it is smooth. Add the mahlepi, and stir in 2-3 more cups of flour.

Turn out the dough onto a lightly floured surface and knead until smooth, about 10 minutes. Place the dough in a buttered bowl. Cover with a cloth and let it rest for at least 2 hours to rise, or until doubled in bulk.

Once the dough has risen, punch it down and knead it lightly. Form the dough into two 9-inch rounds, and insert a coin in the bottom of each of them. Place the dough in two cake pans or on a sheet pan, cover with a towel and let it rise another hour. Brush the top of the loaves with beaten eggs, and sprinkle with sesame seeds or blanched almond slivers. Bake in a preheated (190 degree Celsius) oven for about 40-45 minutes, or until golden brown.

Candied Rose Petal Recipe (for garnish):

You may crystallize plain and simple rose petals, in one color or in many. They look so beautiful when decorating your vasilopita platter.

1 cup rose petals
1 cup sugar
3/4 cup water
Confectioner's sugar

Wash rose petals gently and dry on paper towels. Trim away the ends, because they are bitter. Combine sugar and water in a saucepan and boil until it is 110 degrees C on a candy thermometer. Pour syrup into a bowl on a bed of cracked ice. When syrup begins to crystallize, hold petals with tweezers and dip. Dry petals on waxed paper and dust with confectioner' sugar.
| | | | |
| --- | --- | --- | --- |
| | ADVERTISEMENT... | | |