Biological control (By Andreas Barboutsis)

Exochomus quadripustulatus
For the pest management of insect pests the biological control methods are suggested to reduce the toxicity danger of insecticides to man, animals and environment.
The biological pest control has a lot of advantages most important of which are the safety of its application to man and environment, the permanent results and the maintenance of balance in the ecosystem.

Adonia variegata
In many applications of biological pest control for insect pests in urban and suburban green places, as well as in extensive agricultural practice, there have been occasionally mass applications of beneficial and other organisms (such as entomopathogenic fungi) with much effectiveness.
These beneficial organisms can be produced after reproduction in the insectary, or been supplied from the trade.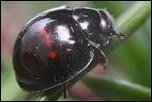 Chilocorus bipustulatus
The usual entomological pests that we see today in green places, where the application of biological pest control is possible, are mainly insect pests from aphids (Hemiptera: Aphidoidea), scale insects (Hemiptera: Coccoidea), whiteflies (Hemiptera: Aleyrodidae), larvae (Lepidoptera) etc.
Examples of such applications that have been applied successfully are the following:
Pest

Biological control agent (beneficial organism)

Category of beneficial organism

Wooly whitefly
Aleurothrixus floccosus

Cales noacki

Insect

Mealybugs
Planococcus citri

P. ficus

Leptomastidea ambnormis
Anagyrus sp
Cryptolaemus montrusieri
Exochomus quadripustulatus

Insects

Aphids

Aphidius matricariae
Lysiphlebus testaceipes
Scymnus sp
Coccinella septempunctata
Adonia variegata

Insects

Scale insects
(Coccidae, Diaspididae)

Chilocorus bipustulatus
Rhyzobius lophanthae
Scutellista cyanea
Metaphycus helvolus

Insects

Larvae of Lepidoptera

Bacillus thurigiensis

Bacillus
Andreas Barboutsis
Agriculturist
www.plantland.gr